The new May 2019 update for Windows 10 is coming soon. Microsoft has just announced that you will need more storage space to upgrade Windows 10 to the May 2019 Update. Back in Windows version 1809 (the October 2018 Update) Microsoft increased the free space requirement before upgrade to 16GB but as of May it will be changing to 32GB.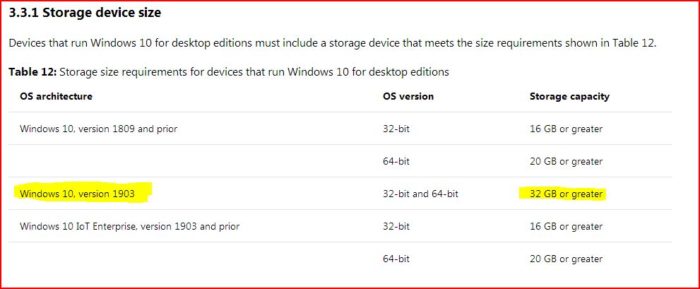 If you are running the 64-bit version of Windows 10 this is a 12GB increase in free storage requirements and a 16GB increase for the 32-bit version.
Most computers will have enough storage out of the box to support the new Windows 10 May 2019 Update but if you main storage volume is filled up with data files you have have issues.
You can read about all the new requirements for the latest version of Windows 10 here https://docs.microsoft.com/en-us/windows-hardware/design/minimum/minimum-hardware-requirements-overview
If you are having a problem updating to the new May 2019 Windows 10 Update or you would like some assistance with the update, please give us a call at (480) 240-2946 .  Chandler Computer Repair Company is a Chandler, AZ based computer service company with offices through our parent company in many other major cities. If you need computer assistance please contact us.